Imagine one of the high-rise buildings around you. And now imagine a fire starting in one of its upper floors. Dense smoke is running out of the windows, escape routes are overloaded. It doesn't matter if you are one of the many employees at the local office, the building safety manager or the incoming rescuer. For such a situation you will need a solution as functional, simple and reliable as possible. And that is why Singing Rock introduces EvaQ and EvaQ HUB devices.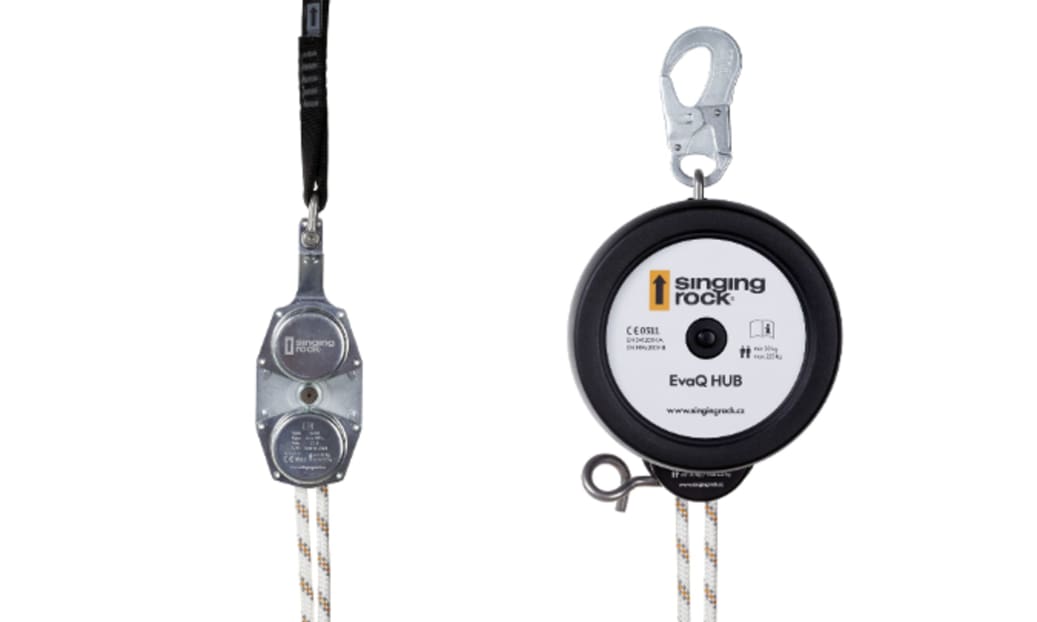 EVAQ
Do you know where is the EvaQ located in the building? Then run to the place, unpack the device, attach it to the anchor point, put on the evacuation harness, clip in the carabiner and jump out of the window. The rescue can be simple as that. The EvaQ device is designed according to EN 341:2011-1B to rappel you safely down to the ground with a controlled speed about 0,8 m/s. Once you are safe on the ground another person can immediately continue rescuing himself without any need of additional rope manipulation thanks to a bi-directional design of EvaQ and the possibility to use it in a shuttle system.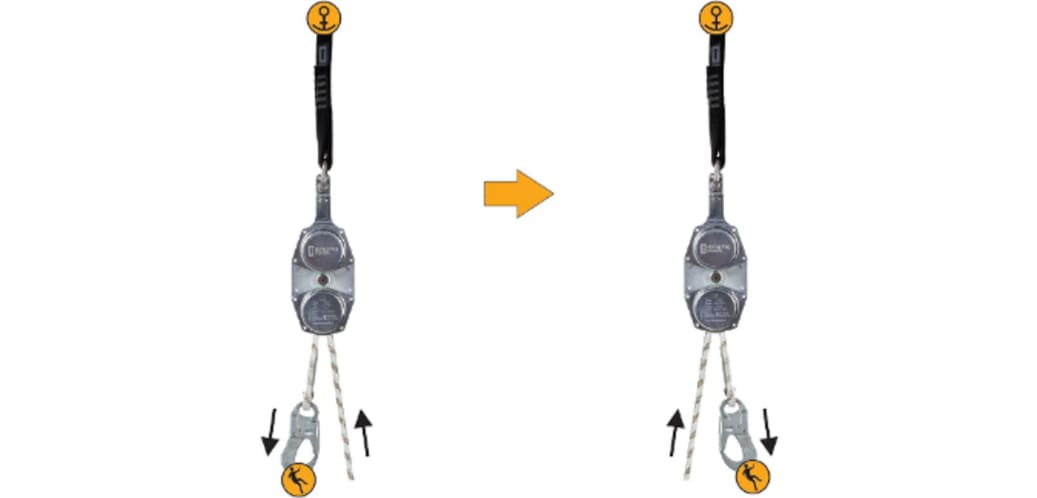 The body of EvaQ is equipped with automatic and redundant brake system consisting of 2 steel fly wheel brakes not only to increase its resistance and reliability but mostly to guarantee an extreme level of safety which matters the most. EvaQ is designed to be loaded at maximum of 150 kg which practically means one person at a time. It is equipped with a static polyamide kernmantle rope ø 9.6 mm according to EN-1891-A with a length of maximum 300 meters.
So far we spoke only about high-rise buildings but the area of EvaQ use is in fact much wider. The application may be a subject of your specific needs whatever they are. Cable cars, outdoor parks wind power plants, cranes and much more. All of these are places where EvaQ can help people to survive.
EVAQ HUB
While the simplicity is obviously one of the main features of EvaQ, its more complex brother EvaQ HUB has more to offer. In a hands of experienced user its versatility is impressive. The properly geared steering wheel adds a features of fully controllable rope descend and a lifting option according to EN 1496:2007-B. To make the lifting easier every device is equipped with a hexagon adapter for accu-drill connection. The rope clamp attached directly to the device body allows to fix the rope position whenever needed. And even the descending function is improved. The body and its brake system are designed to resist a five-time higher energy to comply with a class A of EN 341:2011.
A firm steel body of EvaQ HUB is designed to the load of 225 kg, which means 2 people at a time. It is an essential feature for any advanced rescue operation. A rescuer equipped with EvaQ HUB can descent under a controlled speed and carefully approach the person to be rescued. Then he can use the clamp to fix his position and thereby free his hands. Once the rescued person is clipped in, the rescuer can lift both by the steering wheel and disconnect or cut off the redundant gear. At that moment nothing prevents the rescuer to lower both safely to the ground.
ARTICLE CONTINUES BELOW