Notification of all accidents at work to the Administration of Occupational Safety and Health, as absence due to an accident is one day beyond the day of accident or the employee is likely to be suffering from a permanent or permanent health hazard.
The Labor Inspectorate's Notification Form is a column specifying the cause of injury.
The cause of injury is divided into ten categories:
| | Causes of injury / Categories |
| --- | --- |
| 1 | Hit |
| 2 | Clamped, Stuck in a Machine |
| 3 | Fall on the Ground |
| 4 | Fall off Higher Place |
| 5 | Honey, Edged Thing |
| 6 | Overcurrent on Body |
| | Heat or Cold |
| | Electric Current, Electric Flare |
| | Hazardous Substances and Compounds |
| 10 | Other |
The most common cause of injuries to accidents at work in Iceland over the past 10 years is (3) Disaster relief, approx. 23 percent. The following categories are (4) Fall of higher place and (2) Clamped, machine stuck with usually ten percent of accidents each.
Below is a summary of the statistical information about the cause of injury from the turn of the century for the category (2) Clamped, clamped into the machine .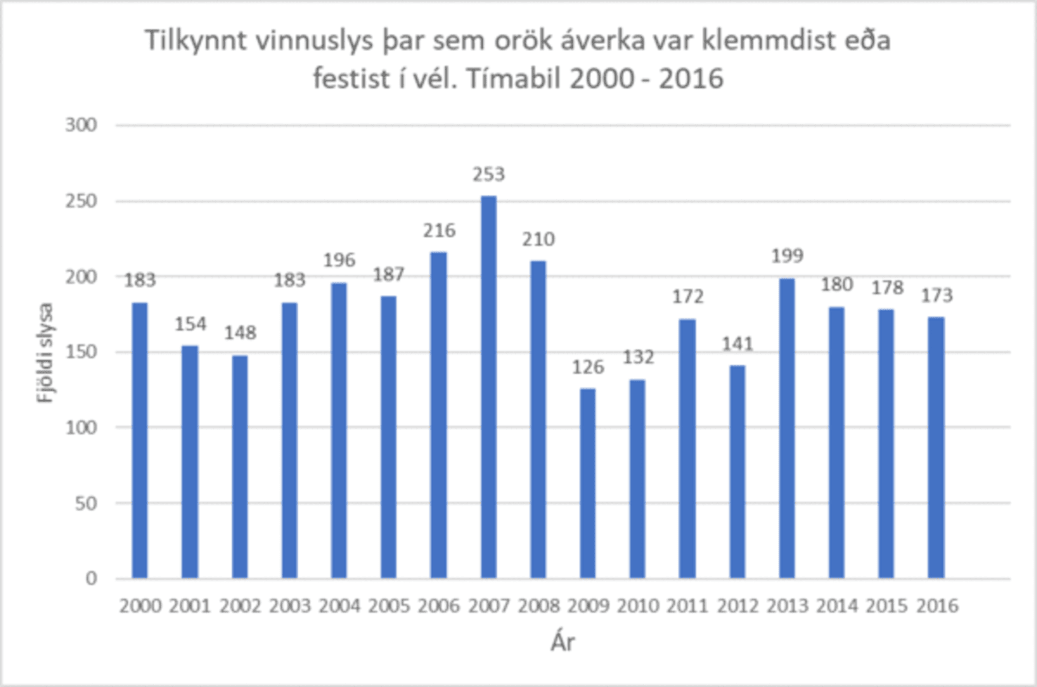 As can be seen from the pillar, they clamp or attach to the machine every year from 126 to 253 people. Many of these accidents with machines are very serious, fracture or loss of body parts.
The column shows that these accidents were the most common at the end of the boom in 2005-2007. In 2007, the situation was the worst, every working day was a work accident, where a person clamped or stuck on a machine. During the crisis years, these accidents decreased considerably, but they have been almost 200 per year in recent years.
These accidents are such that it is easier to prevent them than most other accidents.
ARTICLE CONTINUES BELOW