Boa Technology provides footwear fit solutions across the workwear industry, improving the safety and security of workers day in and day out. The workwear market is a key area of growth for Boa® as more partners and products feature the strong and durable system built to stand up to the harshest conditions and provide lasting, all-day comfort.
As of 2017, there were more than two million pairs of safety footwear equipped with the BoaBoa® Fit System across Europe. Scandinavia leads the global market for Boa-equipped work boots with a market share at a high of 44%. Other European countries' markets are on the rise and showing continual growth. The workwear industry for Boa EMEA makes up 62% of the company's regional revenue.
For workers across construction, manufacturing, mining, oil and gas, transport, and more, the BoaBoa® Fit System lets users dial in a secure fit for enduring comfort that stays consistent and true. The BoaBoa® Fit System is made up of three integral parts: a micro-adjustable dial for a precision fit, lightweight and super strong laces, and low-friction lace guides to ensure a smooth closure. Whether removing gear at the door or acting quickly in a dangerous situation, BoaBoa® makes it easy to get shoes off (and back on) in a hurry and increases safety while working around machinery and hazards with secure lace containment that never comes untied.
From Boa's proprietary textile, to aircraft-grade stainless steel permeated with abrasion-resistant nylon, BoaBoa® laces are extremely strong, built to withstand 10 times more tension, than they would require to close a shoe comfortably. While only 6.8 kg (66,7 Newton) of usable tension is needed to close mid-cut footwear, yet the BoaBoa® Fit System CS3 lace is tested to allow for over 70 kg (686 Newton) of tension before a lace would ever break. BoaBoa® CS1 laces are also designed to withstand lace fatigue over time and tested to last over eight million steps or approximately 6437 km.
Designed to reduce contamination by shedding ice, dirt, oil, and other elements, the BoaBoa® Fit System works hard so the user can stay focused and confident in any environment. The system is tested for impact and durability. When operating as one unit (Dial-Lace-and-Guides) the breaking force of the Boa® Fit System can withstand up to over 190 kg (1864 Newton) in its high power system (H3).
BoaBoa® offers varying systems to address a variety of tension demands, including different dial size and grips, to meet specific application and product needs. The BoaBoa® Fit System in workwear consists of three platforms: L6, M4, and H3+ with Boa's Coiler technology.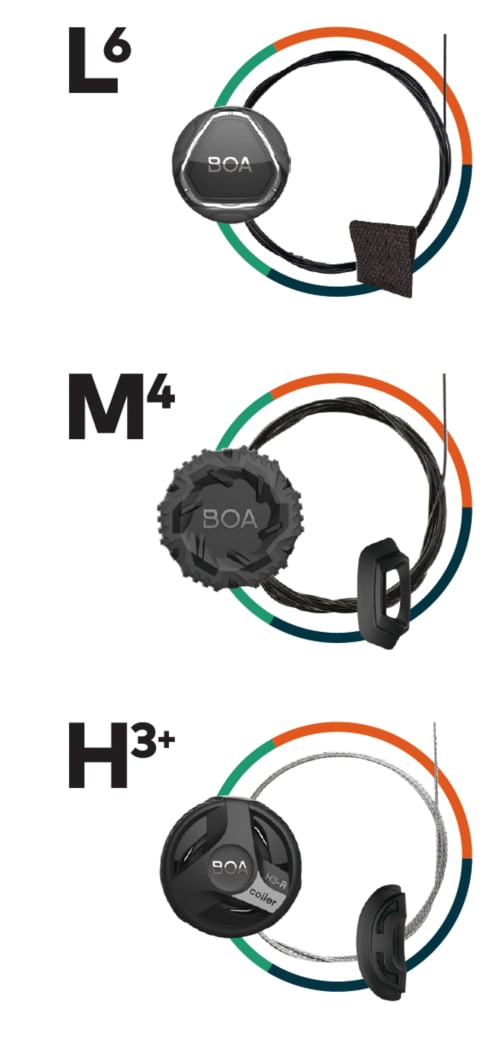 L6 : Featuring maximum impact protection and resistance to accidental opening and dirt contamination, L6 offers a variety of designs to accommodate different applications to power lower cut footwear. The dial features an angled shape with grooved edges for good grip.
M4 : M4 exemplifies Boa's focus on advancing the user experience in every environment. Versatile and durable, M4 integrates into almost any product and features an easy-to-install cartridge assembly that improves impact resistance and increases the ease of replacement. The dial uses a mixed material design that provides a more stable and controlled grip in wet environments.
H3+ : Featuring a 4:1 gear ratio and a robust grip, H3+ enables Boa's highest lace tension, making it easier to achieve the desired fit in higher cut footwear. H3+ can be paired with Boa's Coiler technology for increased speed of entry into the product by quickly taking up lace slack, an especially important function on firefighter boots.
ARTICLE CONTINUES BELOW