To best accommodate the evolving needs of our customers and address the shortcomings of competitor offerings, Blackline has just introduced G7 Insight, a new and simple solution that bundles gas detection with real-time compliance and business analytics tools. In short, G7 Insight gives time back to teams and allowing them to focus on what's important.
For the first time ever, the days of manually retrieving data from docking stations and reviewing spreadsheets are gone. G7 Insight is the world's first comprehensive, managed gas detection program to harness 3G connectivity. With as little as 10 minutes of connectivity each day, G7 devices automatically record, upload and compile data for hassle-free compliance analysis.
G7 Insight — what's in it for you?
Businesses want to keep their people safe, not waste otherwise productive time replacing sensors, upgrading software or retrieving data logs — G7 Insight does it all, wirelessly and automatically, so our customers don't have to.
Zero downtime
G7 sensors feature a lifetime warranty, meaning if a sensor fails, the cartridge can be swapped out with a new one in seconds. Sensors continuously monitor ambient gases and G7 records and stores the information, even if the concentration hasn't reached dangerous levels. When G7 devices enter areas of cellular coverage, stored data is automatically sent to the Blackline Safety Network, providing transparency into who was exposed to which gas, the concentration, their precise location and when it happened — all without having to take devices out of the field or retrieve data logs.
Live compliance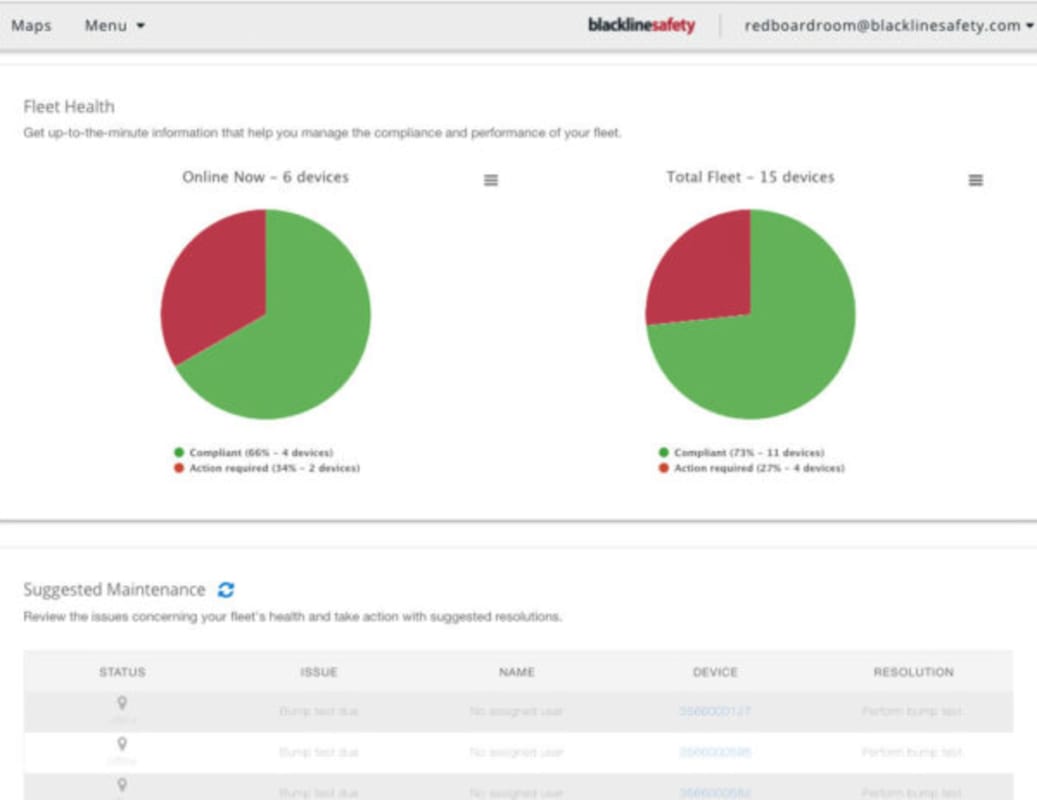 In the past, adhering to gas detection compliance regulations while maximizing productivity has been a challenge for businesses. Traditional practices leave room for human error, and often mean the compliance status of all equipment is unknown at any given moment. Compliance is managed based on snap-shots, periodically retrieving and reviewing test data, to prove compliance until that moment only. With G7 Insight, data is automatically and wirelessly uploaded from G7 devices, and displayed on a custom compliance dashboard. At every moment, we provide maximum visibility into fleet compliance status. From any Internet-connected computer or phone, teams can quickly see which G7s are in compliance and which require immediate attention. G7 Insight provides all the tools and software needed to achieve a real-time perspective and control over compliance programs.
ARTICLE CONTINUES BELOW