Eureka by name and Eureka by nature – Eureka Safety are redefining vibration reducing gloves. To achieve this benefit requires crude and potentially risky matching between the tool type and the design of the protective padding in the glove, with the worst glove-tool combination actually doing more harm than good! We chatted to Markus Berger from Eureka Safety about the importance of correctly selected and used vibration reducing gloves.
Hi Markus – thanks for taking the time to chat about this important topic. Let's get straight to it with a question that's on everyone's lips: when it comes to vibration reducing gloves, do the fingers respond differently to the palms?
Absolutely! The fingers all react differently from the palm, and in fact a good EN10819 certified anti-vibration glove can actually still be harmful for your fingers. The vibration data, also called acceleration data, given on most machines is based on ISO 5349-1. It's a good estimation of wrist and palm injuries, but it underestimates White Finger Syndrome for impacting tools and faster machines of 100Hz / 6000rpm and above. As you'll see from the above graph – where the risk exposure for wrist and palm is indicated in blue and finger risk is plotted in orange – to reap the benefits of vibration reducing gloves the finger response must be taken into account.
I see! So is the response the same to each tool?
Good question. No – no vibration glove will protect the entire hand from every tool and type of vibration, or frequency, since each part of the glove will respond differently to different tools! The protection is dependent on the rpm of your motor and total frequency spectrum of your machine. The only way is to secure a crude matching between the vibration glove design and the frequency of the tool – as is shown in the Tool Type table.
What are the limits of traditional AV gloves?
Most certified vibration gloves provide good protection above 50-100Hz for palm and 500Hz for the fingers, but they also amplify hand-arm vibrations around 30Hz and finger vibrations from 100-300Hz.
What are Eureka Safety's four vibration glove solutions to the four machine segments?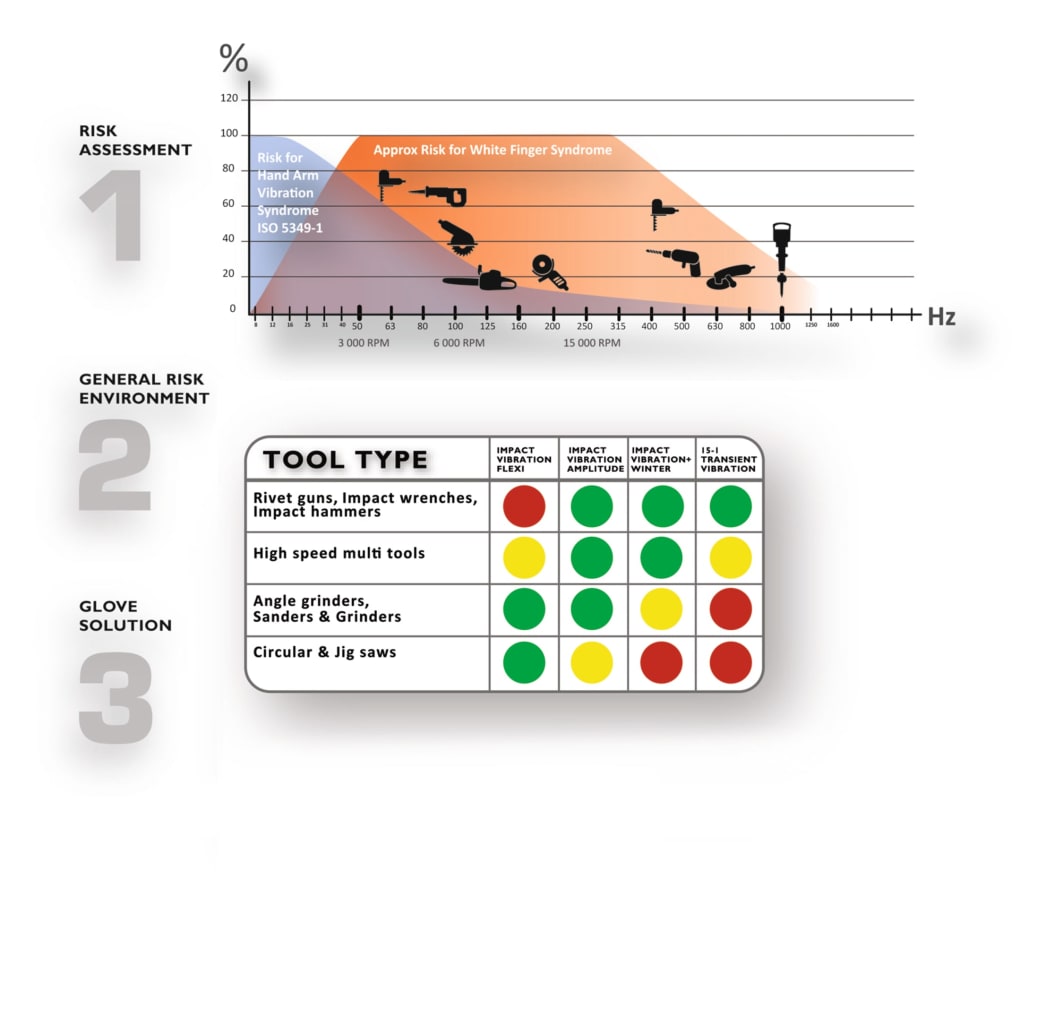 Firstly, there are impacting tools such as rivet guns, impact wrenches and jackhammers. 15-1 Transient vibration is a relatively thin, soft glove, cleverly designed to maximise protection with very thin padding. The high dexterity allows it to be used in areas where no vibration glove has been used before. These gloves are not well suited for rotating tools, however, as they will increase damage to fingers if used with these types of tools.
ARTICLE CONTINUES BELOW