Some of the leading voices on occupational health and safety share their experiences of conducting OHS management systems audits. Here they reveal the insights they've gained into how to effectively manage hazardous materials in the workplace.
What are the biggest risks you've seen when it comes to managing dangerous substances?
Steve Williams (SW), System and Governance Manager: Often it is failing to understand the risks that leads to incidents and results in harm being caused. If you don't appreciate the risks of what you are handling, then the chances are you won't know what to do if an incident occurs.
Alberto Melis (AM), Technical Manager, Italy: The biggest risks that I've seen relating to dangerous substances in the workplace have come from poor storage of chemicals; for example, chemicals stored in inappropriate areas or containers; incompatible chemicals stored together causing fire or explosion; and damaged packaging leading to physical exposure, fumes and spills.
Panagiotis Kamarados (PG), Technical Manager, South East Europe: One of my clients identified asbestos in the insulation of its ships. Once the sample had been analysed in a lab, the material was removed using the correct procedures and personal protective equipment – eliminating the issue. Another client identified the risk of toxic and flammable gases in enclosed spaces. They addressed this by using systems to monitor the atmosphere within the enclosed space permanently and an alarm that sounded if the level went above the permitted limit. Workers also used portable gas detectors before entering the area and completed a checklist for entering the enclosed space to ensure all the preventive measures were taken.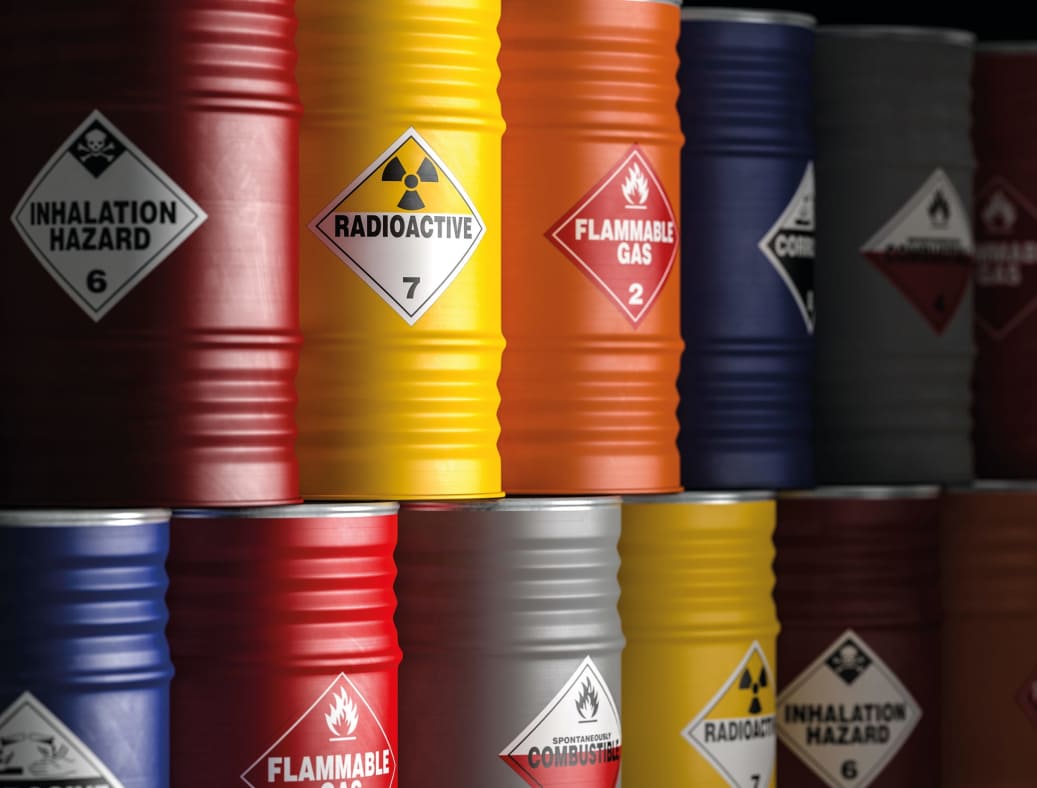 Wayne Roden (WR), UK and Ireland Trainer Manager and Lead Assessor: Having assessed some particularly hazardous industries, I have seen some quite considerable sources of risk including the management of explosives, the management of radioactive substances and chemicals addressed by REACH authorisation. One of the biggest risks I've seen relates to the two substances I hate the most – hydrofluoric acid and perchloric acid. Both acids are used in metal treatment and both offer their own issues. Hydrofluoric acid exposure to the skin can result in burns, decalcification of bones, and in worst cases, cardiac arrest, with the entry point from exposure not always being easily identifiable until a period of hours has elapsed. Perchloric acid offers some very different hazards, being a very powerful oxidiser it reacts with organics and readily forms explosive compounds.
In the event of exposure to chemicals or dust, what role do eyebaths and showers play?
PG: Showers and eyebaths are essential first aid in the case of contact or contamination with dangerous substances (especially corrosives) and can limit the damage to the exposed person.
AM: It's important to note that the usefulness is lost if these devices are not subjected to an adequate surveillance programme – as per the new international management system standard for OHS, ISO 45001 clause 9.1.1 – which aims to assure their adequacy, accessibility and functionality. Showers should have constructive features that meet internationally recognised standards, such as EN 15154, and should be in areas that are easily accessible and close to those where hazardous substances are handled. The organisation should carry out regular inspections to ensure that access to the shower and eyebath facilities is not obstructed and tests to confirm that they work properly, especially for those placed in external areas that are more exposed to deterioration, like water leaks from pipes or ice in winter, that could compromise the adequacy of the flow of water when it's really needed.
ARTICLE CONTINUES BELOW