There is an old joke that says, "I'm not afraid of heights – it's the sudden stop that bothers me." While the joke is clichéd and more than a little silly, it captures the essence of working at heights.
The definition of working from heights seems like it should be pretty well universally understood, but what constitutes "working" and what constitutes "at height"? Unless we truly understand the answers to those two questions, keeping ourselves safe while working at high becomes troublesome.
Let's begin with "working" – work is any action we are taking while in the workplace1. For the purposes of this article "working at heights" will include everything from working on a lengthy construction project at the top of a tall tower or taking a shortcut by walking across a catwalk. Height, on the other hand, is a relative term, but for our purposes, height is an elevation at which there is a better than average chance that a person will be harmed if he or she were to fall from it. There are plenty of variables that effect the dangers of working at height – everything from the traction on the surface on which a worker is standing to what the worker is standing above (falling in a six foot pool of water is less hazard than falling on a marble floor, for example) which leads to many workers irresponsibly failing to take proper precautions.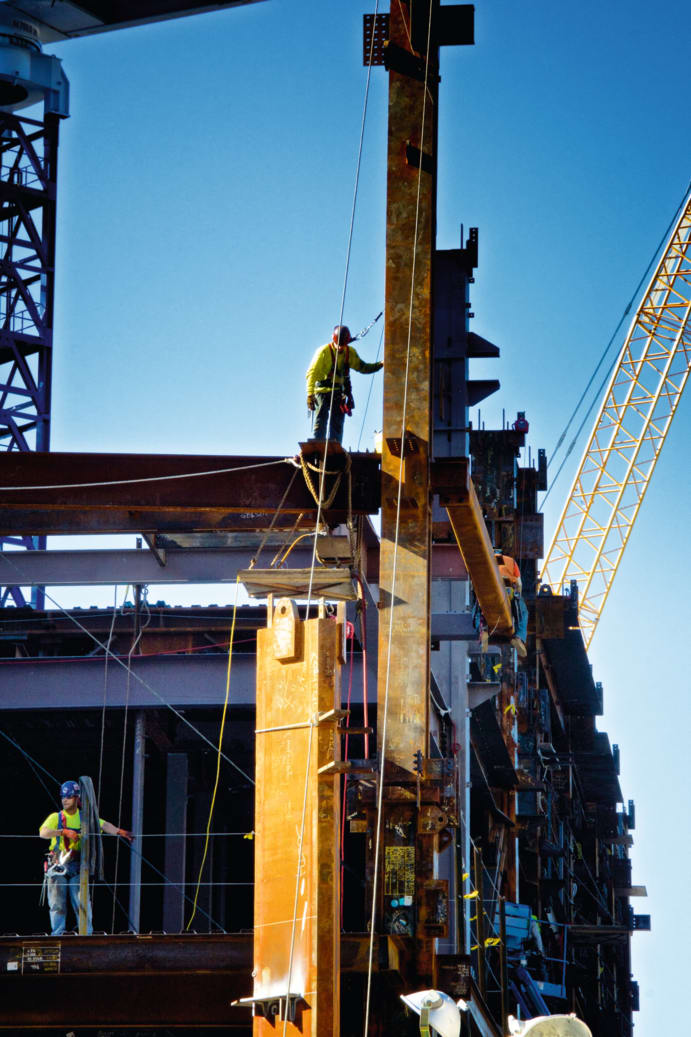 Protecting workers from injury resultant from work at heights is one of the most difficult challenges in safety. There are relatively few controls we have at our disposal and one of them is rarely feasible. The first and most effective safety measure is to eliminate the need for workers to work at height, and while this is sometimes possible, these situations are extremely rare – people seldom work at height because they want to, they do it because it is the only way to get the job done. The most practical way to protect workers is fall protection PPE which can involve several considerations that many people fail to recognise.
How high up can I work before I need fall protection
It is counter intuitive, but the majority of accidental fatalities from falls from heights occur from relatively low heights. In fact, 40% of all fatal falls occur at a height of three metres or less and are the result of a fall from ladders, so while common sense may hold that the higher the work surface the more necessary the fall protection, this is not necessarily the case. For example, if a person should faint while working at height (from heat exhaustion, dehydration, or any number of common conditions that can befall a worker), during a dead faint a person may shift from standing to striking his or her head during a fall greater than two meters; other factors like the momentum caused by a slip can reduce the height at which a person's body will rotate its position. Fall protection should be considered whenever there is an increased risk of injury – regardless of the height at which work is performed.
"protecting workers from injury resultant from work at heights is one of the most difficult challenges in safety"
The most common method of fall protection tends to be fall arrest systems, but there are other measures you should take:
Clear the area below your work site – Many fatalities and serious injuries are either caused or worsened by striking objects, equipment, or stock that needn't have been in the area.
Inspect your equipment – Many falls are caused when a ladder or scaffolding collapses. These types of falls are almost always preventable by doing a pre-work inspection of the equipment you will be using. A key component of equipment inspection should include not only the physical condition of the equipment, but the condition of the surface on which it has been placed (is the surface free from cracks and level? Could moisture or melting change the stability of the surface? Is the surface capable of supporting the weight of both the equipment and the workers?)
ARTICLE CONTINUES BELOW