There are several instances where operators participating in lifting and hoisting operations will find themselves working at height. Historically many countries adopted a so called 'safe' limit to their approach to reducing the risks in working at height. It used to be 6' (1.8 m). Anything below this level was considered safe and therefore no special precautions were deemed required. This approach has largely been discredited over the last 20 to 30 years and the majority of countries now follow a risk based approach where all operations conducted above ground level should be properly risk assessed and steps taken to reduce the risk 'so far as is reasonably practical'. This now means that even operations that are say 20 to 30 cm above ground level could require the provision of a safe working platform.
Ladders are an example of a device that may provide safe access when working at heights, for example allowing access for a slinger to locate and sling or unsling a shackle from a hook. Ladders should only be used for short during work, say five to 10 minutes for simple tasks that can be conducted by hand or with simple hand tools only.
For longer duration or more complex work (e.g. use of power tools) then a safe working platform should be used. Examples include but are not limited to: tower scaffold, cherry picker, scissor lift, and edge protection fitted around the exposed edge of a facility.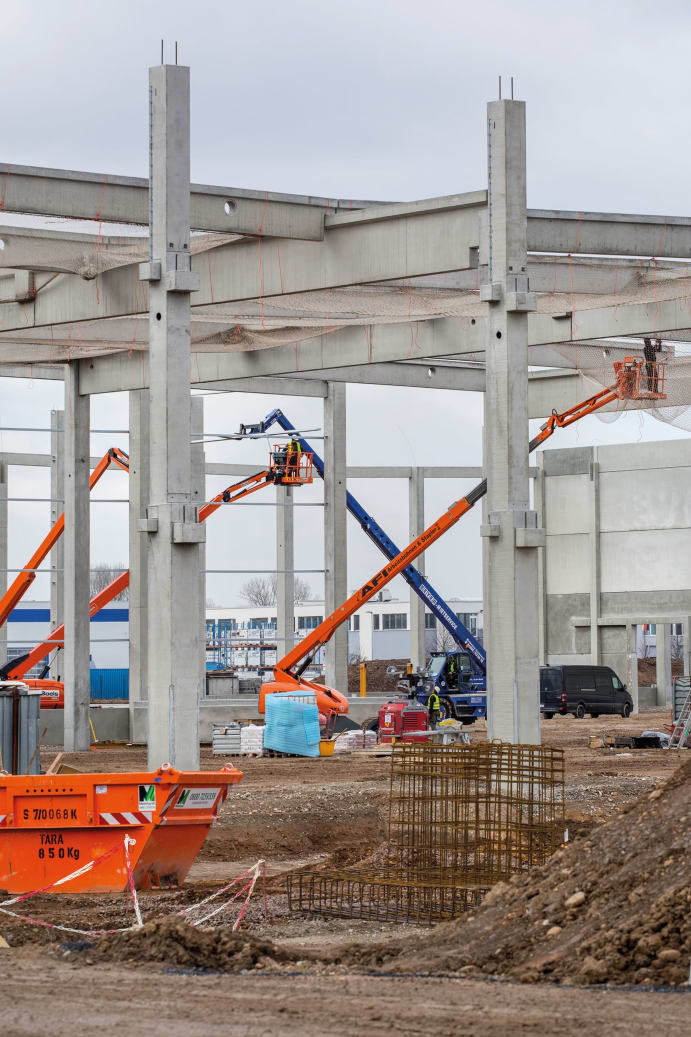 When working at height other forms of protection may, through detailed risk assessment, be considered appropriate – here I am thinking about the use of harnesses and lanyards. There are several systems to consider. A fixed anchored lanyard that physically prevents the user from approaching an exposed edge may be helpful in tasks where the operator is working in the same position for long periods of time and does not need to move around. The alternative is an inertia harness protective system – typically these devices will not prevent the person from falling, but they will stop them from hitting the ground (other surface). The inertia reel slows the fall descent and brings the person to a gradual stop before they hit a surface beneath them. There are two key things to consider here. There must be a safe anchoring point to connect the lanyard to. The anchor point must be tested to ensure it fulfils the mass and momentum requirements; the system must be set up to ensure that the lanyard will stop the person before they hit the surface underneath and most importantly there must be a rescue plan as to how to recover a person who has fallen. This is not as easy as it sounds as there are real health issues recovering a person who has been suspended for a period of time and it can be very hazardous for the people working at height trying to recover the person.
A study of the safety statistics of the International Oil and Gas Producers (IOGP) identified that lifting and hoisting operations are a significant cause of fatal accidents in the oil and gas industry. Similarly, in other industry categories like construction, marine operations and warehousing, lifting and hoisting operations are a major cause of incidents.
Common causes of incidents
When lifting and hoisting, incidents may occur for a variety of reasons. The principal causes include but are not limited to the following.
'Line of Fire'
Coming into contact with a moving load will often result in serious or fatal consequences due the masses involved. Examples include staff responsible landing and stacking loads getting caught between a solid surface and the moving load, or loads being moved before all staff have moved clear of the lifting zone and getting crushed by the load. This latter situation can also be exacerbated if a load is picked up and the centre of gravity is off centre, causing the load to start swinging unexpectedly and uncontrollably. The line of fire topic is particularly relevant in marine and offshore locations where the vessel transferring the load is also moving with the sea state. Loads can rise and fall without warning and control.
ARTICLE CONTINUES BELOW