The interaction between the skin and its immediate environment is amazingly complex. Our knowledge on this, whilst extensive, is still far from complete. One consequence of this is that, no matter how carefully we develop and operate our skin management system, we can never exclude the possibility that someone will suffer an adverse reaction due to exposure to the working environment.
So, you have one or more employees suffering a skin reaction that appears to be due to workplace exposure. What should you do now?
Time for some serious detective work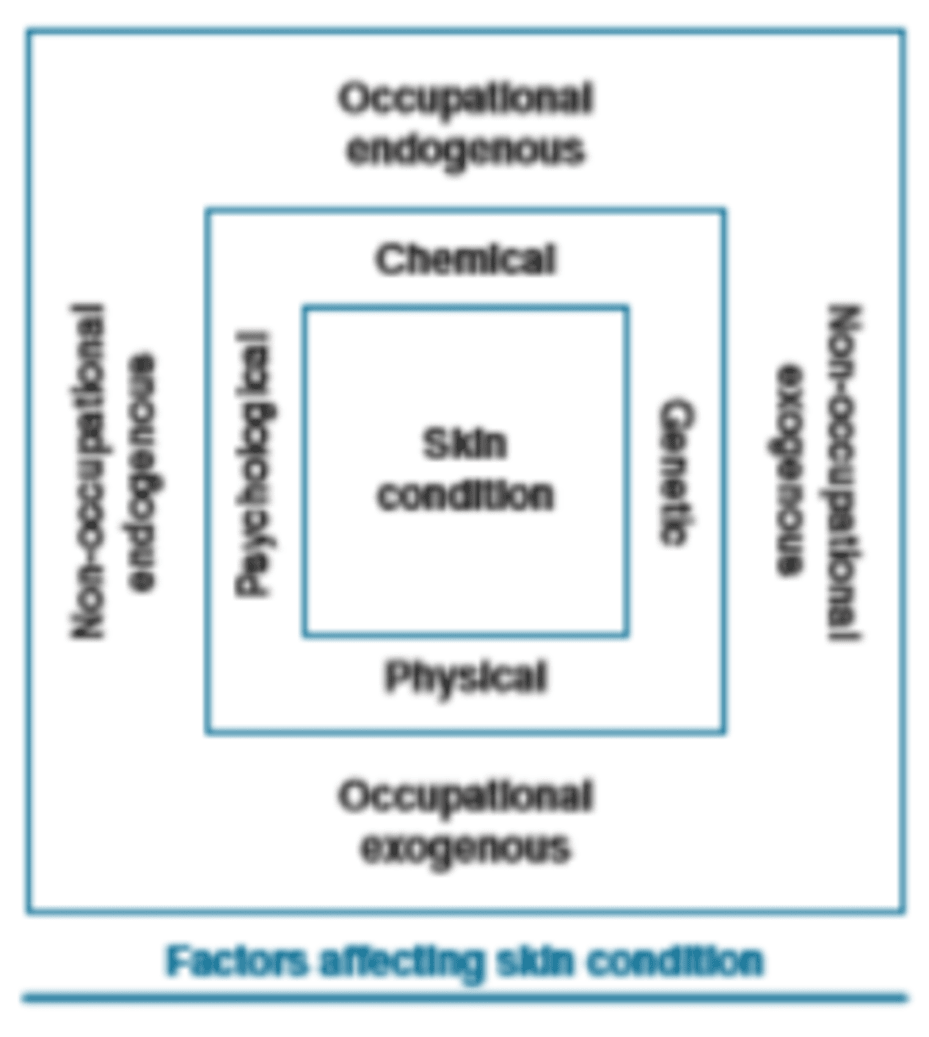 Given the complexity of the interaction between the skin and the working environment, a simplistic approach may well not identify the true cause (or more probably, causes) of the skin reaction and the subsequent management may make the problem more serious. A further complication is that we have our skin for 24 hours every day, of which only part will be spent at work. If we also take into account the days not spent at work then we spend considerably less time during our working life at work compared with when not in the workplace. Since it matters not to the skin whether the environment is occupational or non-occupational our investigation will have to consider both. The diagram shows the factors that can be responsible for the skin condition, either alone or, more probably, in combination. Omitting any one of these from our investigation may result in an incorrect conclusion, followed by an inappropriate management strategy that could result in a worsening of the problem.
Of course, in many cases there may appear to be a single obvious cause. As case studies later in this article will show, however, omitting to consider alternative causes can easily result in the wrong conclusions being drawn.
Starting from the outside, consider briefly each of the factors shown in the previous diagram.
Occupational – endogenous
This is where the skin is reacting to conditions that are not due to direct contact between the skin and the external working environment. Examples here would be where the affected person has ingested a chemical that has initiated the condition known as systemic contact dermatitis. Dietary nickel in a nickel allergic person is one such condition. Keep in mind that skin uptake via inhalation and ingestion can result in systemic skin conditions. In addition, there are over 100 internal health conditions that can result in what appears to be a condition almost identical to a contact dermatitis.
Occupational – exogenous
ARTICLE CONTINUES BELOW